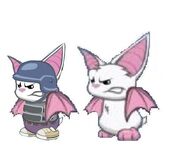 Señor Murcielago/Alberto Murcielago is a character in
Tomboy's Life
. He is a Columbian bat who went to high school with
Alejandro Gomez
.
He speaks spanish allot and have lots of money and weapons. His vehicle is the Lamborghini Murcielago and Turboshark. He is a good bat but in season 6, he was hypnotised by Tom's Bodyguard. Andre knocked him out with a baseball bat and make him not hypnotised anymore.
Murcielago is Bat (animal) in spanish.
His name translated is Mr. Bat.
His Lamborghini Murcielago is named after him
When he and Alejandro was in high school, they were best friends.
Ad blocker interference detected!
Wikia is a free-to-use site that makes money from advertising. We have a modified experience for viewers using ad blockers

Wikia is not accessible if you've made further modifications. Remove the custom ad blocker rule(s) and the page will load as expected.